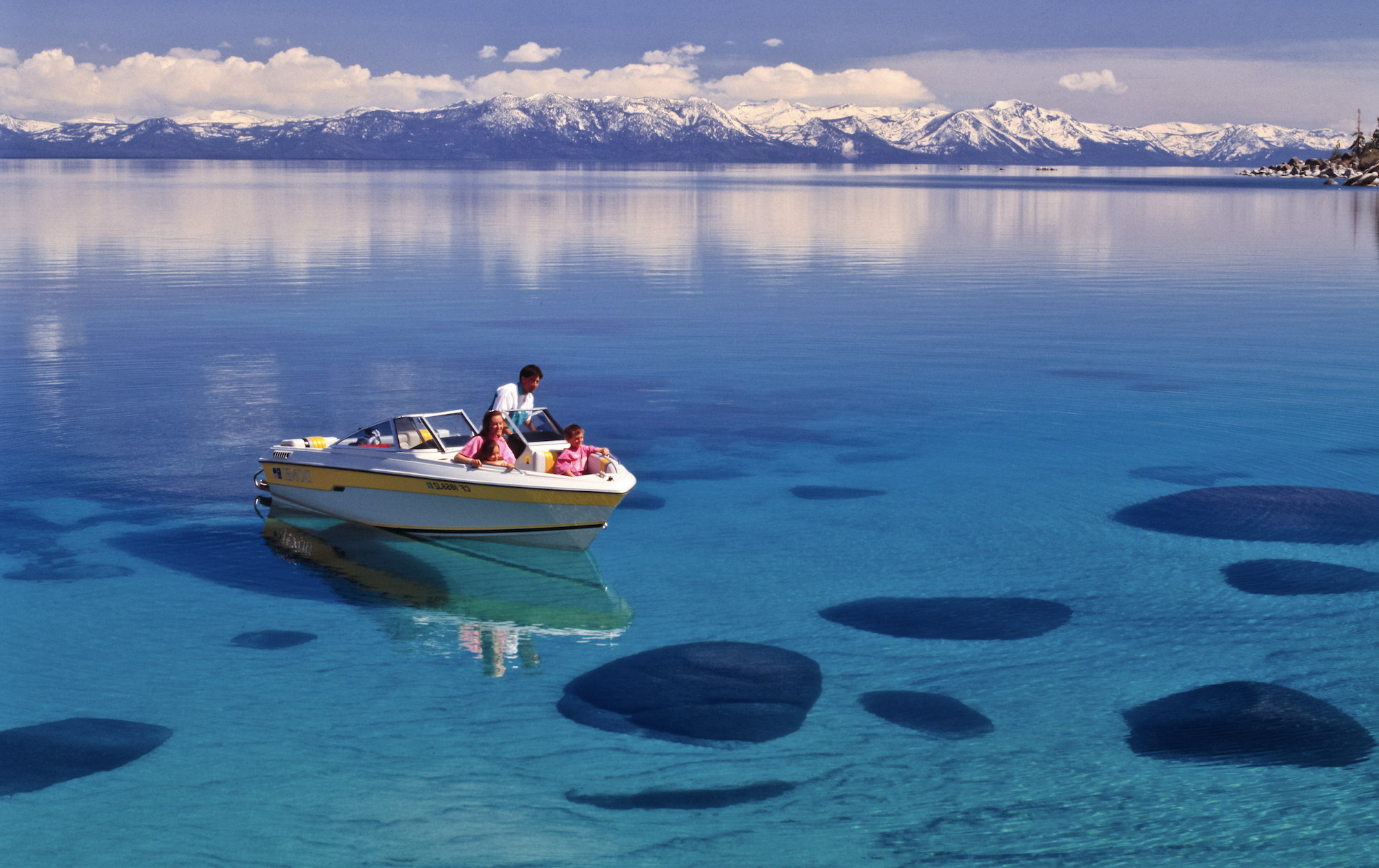 Know before you go, and make the most of your time on Lake Tahoe.
There is no better way to appreciate the grandness of Lake Tahoe than to be out on the water. Taking in magnificent views of the water and the way that the surroundings reflect on the lake is quite an awe-inspiring experience. If you are not planning to bring a boat with you, we can help you rent one. If you are bringing a boat, be sure to read through the information below regarding boating on Lake Tahoe, so that you spend less time waiting and more time boating!
Mandatory Boat Inspections: All boats must be inspected prior to entering Lake Tahoe. 
Due to invasive species that can impact our waters, mandatory boat inspections are required for all watercraft entering Lake Tahoe. 
Clean, Drain, and Dry your watercraft.
Drain your bilge, ballast tanks, live wells, sea strainer and any storage compartments.
Dispose of any plants or critters away from lakes or rivers – and above the high water line.
Lower the outdrive on the engine to release any residual water, If you have an outboard or sterndrive engine.
If you flush your engine at home and have special flushing adapters please bring those with you.
Inspections only occur during daylight hours and take only a few minutes if you arrive prepared.  Find Lake Tahoe boat inspection locations, hours, and fees here.
Appointments are Optional, but HIGHLY RECOMMENDED. Book an appointment here. If your vessel has an intact inspection seal [a wire with a numbered clip loosely connecting the boat and trailer] from the last time it was hauled out of Lake Tahoe, you do not need an inspection and can proceed straight to your preferred launch site.
Rent a Boat with Tahoe Luxury Properties.
For a stress-free boating option, rent a boat through us! Contact our concierge, and we'll be happy to arrange a boat rental from a company we know and trust. Then, we'll make sure everything is lined up at your desired time and location.
Know the Launch Sites Around North Lake Tahoe.
Throughout North Lake Tahoe, you will find a variety of both public and private launch sites. From Lake Forest in Tahoe City to the North Tahoe Marina, use this list to find the most convenient location to launch your boat. Use this site to find hours and any fees that may apply.
Please be aware that, unless otherwise noted on your rental home's website page, Tahoe Luxury Properties does not provide dinghies, so you will need to be prepared with your own water transport to the buoy.
Stay with Tahoe Luxury Properties. 
Make the most of your Lake Tahoe vacation when you stay with Tahoe Luxury Properties. In addition to our unparalleled concierge services that help with everything from sorting out boat rentals to grocery shopping, our vacation rentals set a standard of luxury you won't find elsewhere.