In Tahoe City, walking the bike path around the lake from the north end of town to Commons Beach is a must do! Gorgeous views of majestic mountains surround the lake as you stroll. And, just around the bend from Commons Beach is historic Fanny Bridge and Lake Tahoe Dam.
The almost century-old Fanny Bridge actually received its name from all of the fannies that can be seen from the road as gawkers stare over the edge into the cool waters. See the resident Canadian geese, that frequent the lake, swimming in the calm waters below. This is wonderful place to catch a great sunset, take a family photo, and catch a quick history lesson. Here, the Bureau of Reclamation has sponsored an impressive display sharing information with visitors about the lake and the dam.
Lake Tahoe Dam was completed in 1913. It was once manually dredged out by horse and wagon, pictures of which can been seen on display along the bridge. Original black and white photos line the bridge, displaying a historic view of the stages of construction of the dam. According to the display, the top six feet of Lake Tahoe are a reservoir, so the dam creates a fluctuation between 6,223 feet and 6,229 feet. Water is released slowly to maintain safe levels of the Truckee River downstream. So much more information is included in the display, which is very interesting to read.
The lake itself is quite fascinating as well, and an impressive display of information is presented next to the history of the dam as you walk along the bridge. To share a little bit of the information: Lake Tahoe is 1,645 feet deep at maximum-depth. The water contained in the lake is measured at an amazing 122 million acre feet.
For an extended history lesson, adjacent to Fanny Bridge is the Gatekeeper's Museum. The museum is a reconstruction of the original 1909 cabin that housed the "gatekeepers" who operated the dam, regulating the flow of water out of Lake Tahoe. The museum grounds are also a beautiful park with benches, a picnic area, and stellar views of the lake.
To complete the visit, pick up some souvenirs at the North Lake Tahoe Visitor Center just beside Fanny Bridge. Learn more information about what to do and see around the lake, or find unique gifts to commemorate the visit to one of the most beautiful parts of California.
A trip to Fanny Bridge is sure to be a fun and easy afternoon that's accessible for the whole family!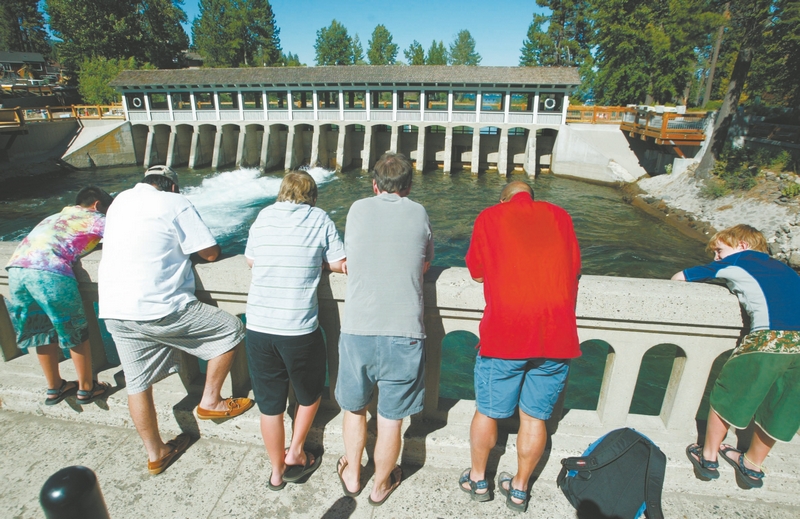 Book your stay, and plan for an afternoon strolling through downtown Tahoe City!