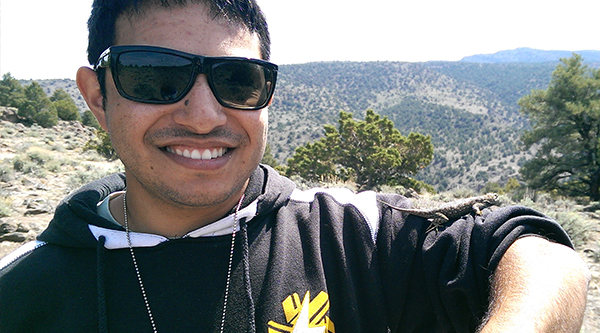 Born and raised in Truckee, Gil stays in the area for the small mountain town feel and the unparalleled access to the outdoors. Gil graduated from the University of Nevada in Reno with a BS in biology. Now, our trusty and reliable jack-of-all-trades and full-time handyman, Gil loves problem-solving and being out and about in the field. Gil and his wife live in Truckee with their German shepherd, Anya, and their weiner dog, Karma.
Your perfect Tahoe summer day? Waking up by sunlight in a tent with my wife, mountain biking in the cool breeze of the morning, cooling down in the afternoon by swimming and paddle boarding. Then BBQing in the evening, and ending the night by a campfire under the stars.
If it snows 2 feet overnight, what is your ideal way to spend the day? Waking up early to snowboard all day, after unburying the driveway and car of course.
What is the next toy on your purchase list? Polaris Ace
Favorite Tahoe trail? Emigrant trail
Favorite Tahoe beach? Speedboat Beach
Favorite celebrity? Chris Pratt
What was your first concert? 3 Doors Down
What is your dream vacation? Backpacking through desolate, unknown jungles.
What is your motto? Make everyday an adventure!