With world-class skiing and riding, Tahoe is famous for its ski resorts and unparalleled access to some of the best backcountry skiing in the U.S. However, there's so much more to Tahoe winters than skiing and riding. Check out a few of our favorite winter activities below, and book your stay in a winter wonderland!
Head to the lake.
You won't regret it. Lake Tahoe takes on a special sort of serenity in the winter months. You'll be left breathless by stunning vistas of snowcapped peaks, glassy water, and snowy pines. You probably won't want to go swimming (although if you love a good polar plunge, go for it...safely!), but you'll love traversing the empty beaches and taking in the serenity of Tahoe. Stay for a sunset. If a storm is coming in, the clouds and setting sun put on a spectacular show.
Below are a few of our favorite wintertime beaches.
Get the adrenaline pumping with a snowmobile tour.
Not into skiing or riding, but still want to seek some thrills? Go snowmobiling. The many trails and tours in North Lake Tahoe offer scenic vistas, knowledgeable guides, and a fun adventure for the whole family. Our concierge is always happy to help you to plan the perfect thrill-seeking adventure for you and your family.
Take in the pristine forest with a snowshoe trek.
Do you love hiking? Try it in the winter months-you won't be disappointed! Trek through quiet, snow-laden pines on a pair of snowshoes and take in the forest and views from a completely different perspective.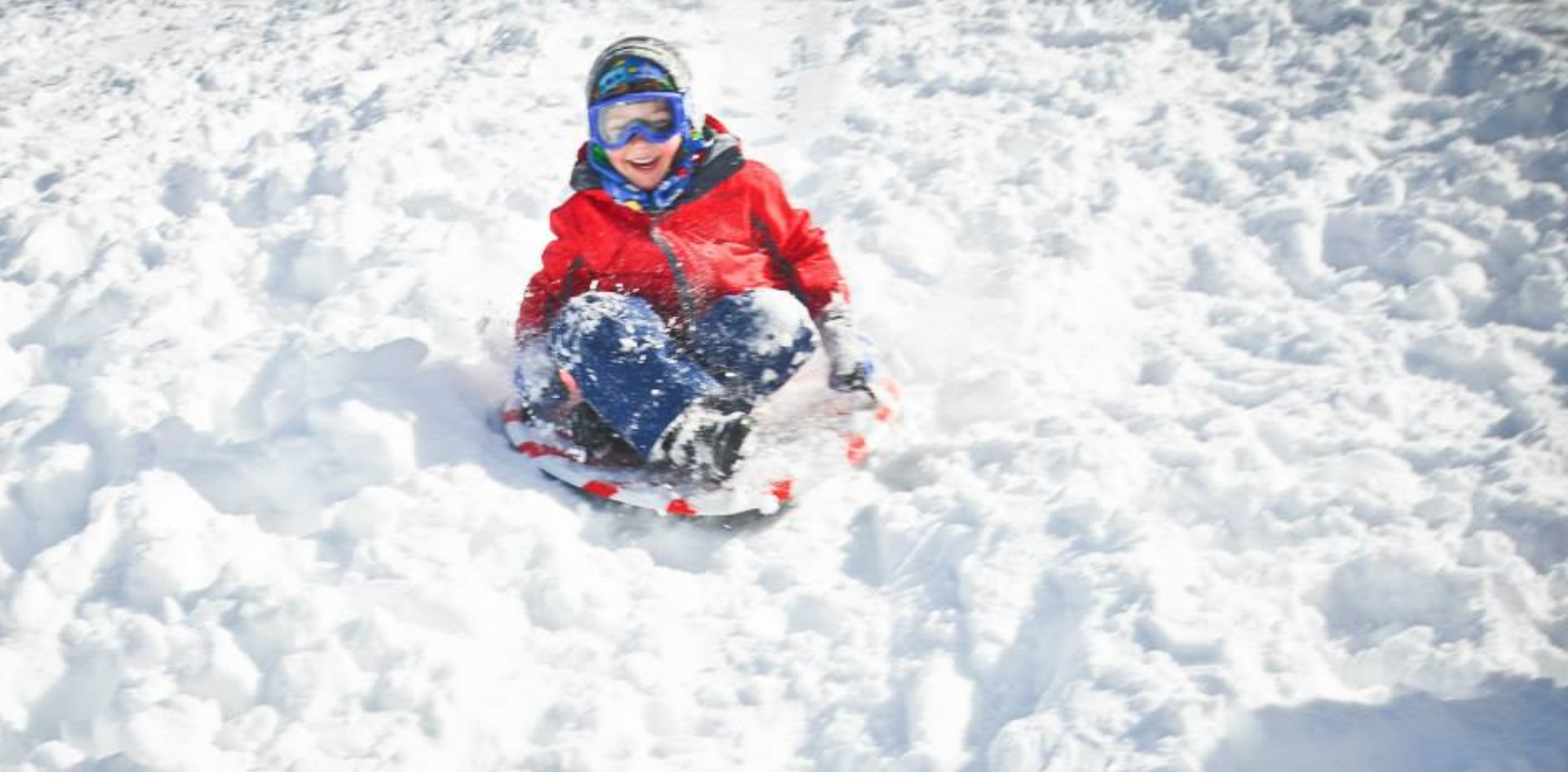 Go sledding!
Hit the slopes without even putting on skis or a snowboard. Sledding is fun for kids and the kids-at-heart! Take a saucer or a tube down one of the many hills in Tahoe, and you'll see why this sport is so appealing to kids and adults alike.
Enjoy Tahoe on ice.
Ice-skating is a quintessential winter activity, and we can see why. Whether you're looking to spend a romantic evening with your significant other, or finding an activity that will let the kids blow off some excess energy, ice skating is a sure bet for bringing people together.
 
Namaste in Tahoe
The skilled instructors and warm studios of North Tahoe and Truckee will have you saying "nahhh...maste here in Tahoe." From classic vinyasa classes to aerial silks and restorative yoga, improve your existing practice or try something new on your next visit.
Add some zip to your trip!
Calling all thrill-seekers! North Tahoe is home to two ropes courses that are open all winter long. Both courses are operated by the Treetop Adventure Park, and offer fun and challenging courses for people of all athletic abilities ages 5+.
Shop til you drop.
Looking for that perfect gift or souvenir of your Tahoe vacation? Or perhaps you want to check out local artisans and locally made goods. Either way, Tahoe offers great variety and a beautiful setting to stroll from shop to shop.
Eat, drink, and be merry!
Après isn't just for skiers! Partake in an elegant dinner or a casual lunch, and hop around to the many happy hours in North Lake Tahoe and Truckee. An abundance of fireplaces, delicious and unique cuisine, and ski-lodge atmospheres await.
Take in a flick.
Don't miss out on the latest release! Catch a matinee or head to the late-night showing of that movie you've been dying to see at one of Tahoe or Truckee's cinemas.
Go to a museum.
Want to learn more about the history of Lake Tahoe and Truckee? From the Washoe Indians who made North Tahoe their summer camp to the roaring 20s when Tahoe became a playground for the wealthy, this area has a lot of history to explore.
Treat yourself to spa services.
Melt into the table without leaving home. Unwind, relax, and rejuvenate for your vacation. Indulge in an at-home treatment. Our concierge team works with a wonderful network of massage therapists and wellness specialists who will make your next Tahoe trip the most relaxing one yet.
Looking for more activities in North Lake Tahoe and Truckee this winter season? Check out our things to do page for inspiration for your next getaway. If you'd like some help planning your Tahoe trip, we understand--there's a ton to do here in Tahoe and Truckee! Let our friendly and helpful concierge team assist you in planning the perfect memorable getaway.